A New Heaven - Choir of the Queen's College CD release - dedicated to the memory of Jackie Stedall
A New Heaven - Choir of the Queen's College CD release - dedicated to the memory of Jackie Stedall
Thursday 23 February 2017
On their latest CD release, the Choir of The Queen's College, Oxford plunges into a world of 'revelation', both divine revelation and revelatory visions of earth and heaven. The bulk of the pieces on the recording are inspired by the extraordinary visions of St John, the writer of the Book of Revelation, describing the ravaging of the world through divine judgement, the battles between good and evil, and the world's eventual remaking as 'a new heaven and a new earth' in which death and suffering are no more. The disc features works by composers Sir James MacMillan, Cecilia McDowall, Gabriel Jackson and Queen's alumni David Bednall and Kenneth Leighton.  There are three new commissions, by Phillip Cooke, Toby Young and Marco Galvani, who was a final-year student at Queen's at the time of recording. The recording is in memory of a Senior Research Fellow at Queen's, Dr Jackie Stedall, whose own words are set to music by her former colleague, Phillip Cooke.
The Choir's 2015 critically acclaimed Carols from Queen's enjoyed nine weeks in the Specialist Classical Albums charts.  We hope that you will help A New Heaven to do the same, and perhaps even get it to Number 1, by purchasing a copy now: http://hyperurl.co/ANewHeaven 
By pre-ordering, your purchase will count amongst the first week of sales, and give us a real boost in the charts.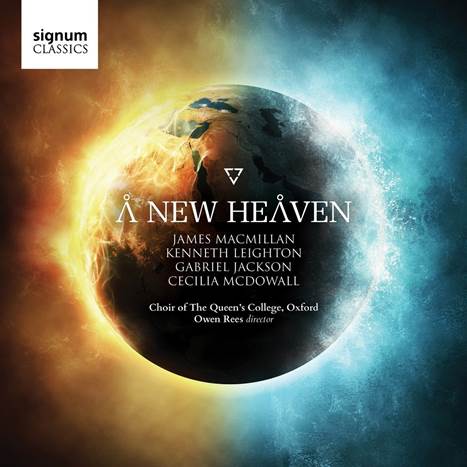 Thank you for your support.