Bulletin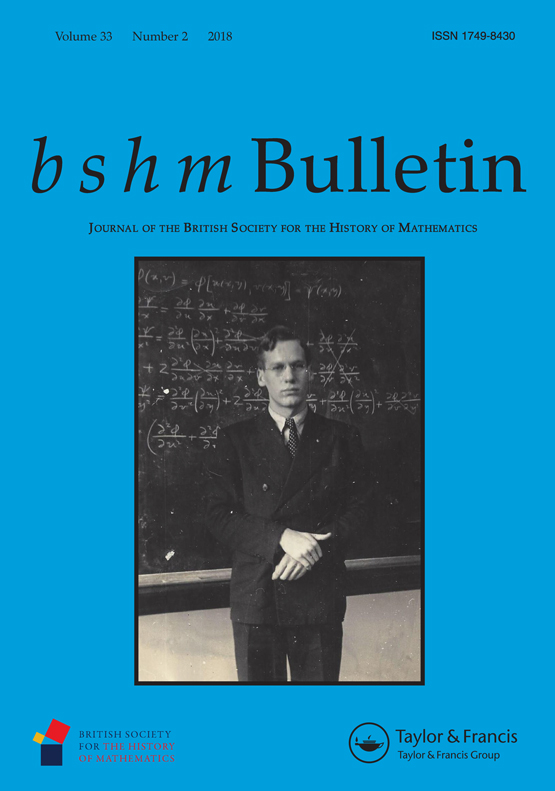 http://www.tandfonline.com/toc/tbsh20/current
The BSHM Bulletin is the journal of the British Society for the History of Mathematics: it publishes articles, reports, and book reviews on a range of historical topics. Articles on local mathematical history, the use of history of mathematics in education, and those reflecting individual interests and research are particularly encouraged.
The latest Bulletin (Volume 33 Number 3, 2018) is being distributed by our publisher, Taylor and Francis, to BSHM members at the end October 2018.  If you are a member and  do not  receive this issue, please contact the Membership Secretary, Ken Lord.
The Bulletin is published on behalf of the Society by Taylor and Francis. From 2006 it has been available online to institutional subscribers at the Taylor and Francis website. On that site it is also possible to request a free sample copy of the Bulletin, sign up for table-of-contents alerting, and view tables of contents of the Bulletin from 2006. Subscribers may also access past issues of the Bulletin electronically via Taylor and Francis. BSHM members receive complimentary electronic access to past issues of the Bulletin; if you are a member and would like to find out more about this, please contact us.
If you are interested in submitting an article for inclusion in the Bulletin, please see the Instructions for Authors on the Taylor and Francis website, or contact the Editor, Benjamin Wardhaugh.